Sarthak Reading Classes
Background
Despite of expansion in access to education, children are not learning. This worldwide trend is not so different in the context of Nepal as well. Reading Skills is basis for the learning. Recognizing the importance of reading skills and reading culture, the government of Nepal is planning to introduce National Early Grade Reading Programme (NEGRP). However, given limited resources, the initial intervention districts are limited. Hence, contribution from the civil society is must for its success. Sarthak Shiksha is promoting Sarthak Reading Classes (SRC) for supporting schools with reading skills and reading culture.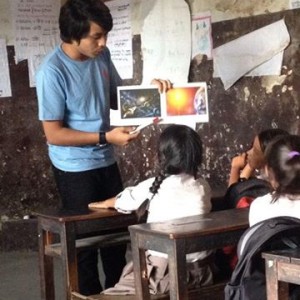 Characteristics of Sarthak Reading Classes
Structure of the activity
For SRC, Sarthak is mobilizing Sarthak Sathi (volunteers) to conduct an extra class per week, out of school hours. The SRC constitutes with a read aloud activity, an activity to enhance learning/ reading skills and assessment.
Sarthak Sathi are trained on reading skills, child centered teaching method, and assessment. These skills are trained by in-house experts and supported through one on one coaching by activity managers.
Only child centered approach can enable children with Sarthak (meaningful) learning, constituted by various domains of knowledge, physical, cultural, emotional and social skills. So, we are providing child centered creative classes which take account of development stage, learning needs, and unique characteristics of each child. To enhance efficacy of the program, we are focusing on children in early grades.